DEALS DONE – NIU Solutions expand into additional office space in Bagshot
11 November 2011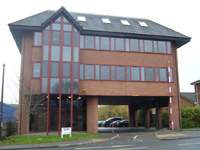 Acting on behalf of niu Solutions, DB Real Estate can announce that niu Solutions, the IT and telecoms services company, have taken an additional 1,100 sq ft of office space within Seal House, on London Road, in Bagshot.
niu Solutions had to find additional office space to accommodate their expanding workforce and DB Real Estate were able to identify underutilised space within niu Solutions existing building, persuade the tenant of that space to sub-let part and agree terms for niu Solutions to occupy the space. Both niu Solutions and the previous occupier are delighted with the new arrangement.
niu Solutions will be looking for a longer term solution, a new larger office, in the near future possibly in the order of 6-7,000 sq ft and DB Real Estate will be starting a new search for a suitable facility shortly.

For further information please contact the Camberley office of DB Real Estate on (01276) 538300.