DEALS DONE – Success at Camberley
Leading trade counter operators pick Trafalgar Way/Nelson Way for new centres
13 January 2011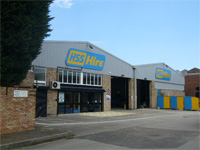 20,000 sq ft of industrial space, made up of a 15,000 sq ft unit and a 5,000 sq ft unit, has been let on The Tuscam Trading Estate, Camberley.
HSS Hire Services has taken Unit 8, Trafalgar Way (15,470 sq ft) on a new 10 year lease incorporating a break clause at the end of the fifth year at a rent of £8.00 per square foot per annum plus a rent free period. At the same time Toolstation has taken Unit 13, Nelson Way (5,265 sq ft) on a 10 year lease at £7.60 per sq ft per annum exclusive plus a rent free period.
The owners of the industrial estate, Coal Pension Properties/LaSalle Investment Management Ltd are delighted with the success at the estate despite the difficult trading conditions. For further information regarding the transactions please contact the Camberley office of DB Real Estate on (01276) 538300.