DEALS DONE – Dairycrest sign up for huge industrial unit in Camberley
August 2013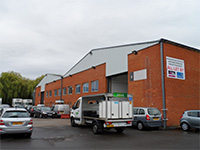 DB Real Estate and Colliers International have confirmed that Dairycrest, the dairy products company whose brands include Cathedral City, Countrylife and Clover, has taken a new lease on Unit 5/6 Lawrence Way, Camberley, a very large and prominent industrial unit, next to the A331 dual carriegway, which provides approx. 26,500 sq ft plus a fenced yard and parking area.
This is further exciting news for Camberley and the Yorktown Business Park, where Lawrence Way is located, and follows on from the recent lettings of Units 1 and 2, to Infinity Motorcycles and Screwfix.
Dairycrest is an international company supplying products not just throughout the UK but worldwide and has a workforce of approx. 5,000 people. They have taken a 10 year lease paying a rent of £7.00 per sq ft and a rent free period was agreed.
Nigel Dickason at DB Real Estate, who acted for the landlords, has confirmed that the estate is now fully let, great news for all involved.
The transaction took nearly 12 months to complete and one of the key factors in attracting Dairycrest was the creation of a secure yard and parking area specifically for Dairycrest which required a planning application/consent which was successfully handled by DB Real Estate.
The industrial estate is managed by CBRE Global Investors Ltd and DB Real Estate and Colliers International acted for the landlords.