DEALS DONE – Infinity Motorcycles open new centre in Camberley
October 2012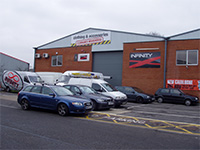 DB Real Estate and Colliers International have confirmed that Infinity Motorcycles, based locally in Farnborough, has taken a new lease on Unit 1 Lawrence Way, Camberley, a very prominent industrial unit, next door to Screwfix, which provides approx. 8,200 sq ft.
This is further exciting news for Camberley and the Yorktown Business Park, where Lawrence Way is located and follows hot on the heals of the Screwfix letting completed earlier this year.
Infinity Motorcycles are a very well-known occupier in the area and the unit is a key part of Infinity's continued expansion.
Nigel Dickason at DB Real Estate, who acted for the landlords, has confirmed there is also serious interest in a larger unit of 26,500 sq ft which is the last available unit on the same estate.
The industrial estate is managed by CBRE Global Investors Ltd and DB Real Estate and Colliers International are currently offering the last available unit of 26,500 sq ft For further information please contact Nigel Dickason of DB Real Estate on 01276 538300 or William Bellman of Colliers International on 020 7935 4499.