DEALS DONE – Hollywood comes to Camberley!
20 February 2012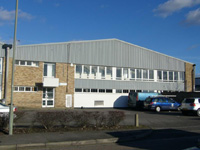 DB Real Estate can confirm that filming has started on one of the latest Hollywood blockbuster movies, Rush. The film is being directed by Ron Howard and depicts the rivalry between Formula 1 racers, Niki Lauda and James Hunt.
Much of the filming is going on at Blackbushe Airport, Yateley, Camberley but at the same time Rush Films Ltd has taken a short term lease at Unit 11 Trafalgar Way, Tuscam Trading Estate, Camberley where a temporary set is to be constructed. DB Real Estate acted on behalf of the landlords, Rush Films Ltd represented themselves.
According to Nigel Dickason at DB Real Estate, short term requirements such as this are often dismissed by agents and landlords as not being worth the aggravation but with some careful planning, just such a short term letting can generate both valuable income and significant business rates savings.
The trading estate is managed by LaSalle Investment Management Ltd and DB Real Estate are marketing a range of available units. For further information about available industrial units or for help with making Business Rates savings please contact the Camberley office of DB Real Estate on 01276 538300.