DEALS DONE – Vote of confidence for Bagshot
21 January 2011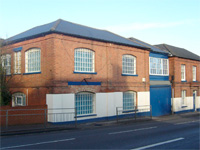 Woodlodge Products Ltd and Vision Insurance have taken a new 5 year lease on 1,623 sq ft of great quality, refurbished, period, office space at 61 London Road, Bagshot from the landlords and owner occupiers of the adjoining building, Eurodata Ltd.
A competitive rental package was being offered and this was taken up by the tenant, who is paying £18,000 per annum.
DB Real Estate acted for Eurodata Ltd who are delighted with the letting, in what is still a very difficult market. Woodlodge Products Ltd and Vision Insurance relocated from Chertsey which is a great vote of confidence for Bagshot and hopefully other occupiers will see the attractions the Blackwater Valley area has to offer.
For further information regarding the letting please contact the Camberley office of DB Real Estate on (01276) 538300.