DEALS DONE – Never give up!!
25 July 2011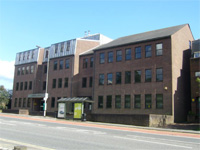 DB Real Estate can confirm that Speymill Contracts Ltd have taken an office suite of 800 sq ft in Admiral House, Camberley, where there is just 12 months left until the tenants headlease expires.
DB Real Estate act for Logica who hold the headlease until the end of June 2012. Recognising that Speymill had won the tender to build the new Premier Inn next door, DB Real Estate approached Speymill to suggest they could take office space next door at Admiral House, for their works office rather than pay for Portacabins on site.
Speymill decided this was a good idea and took a self-contained office on the ground floor until June 2102. This does show that you should not give up, there are always short term requirements around, sometimes it is more a question of un-earthing them.
DB Real Estate acted for Logica whilst Speymill represented themselves.
For further information please contact the Camberley office of DB Real Estate on (01276) 538300 or CB Richard Ellis on 0207 182 2000.