DEALS DONE – Screwfix Direct Ltd open new centre in Camberley
5 December 2011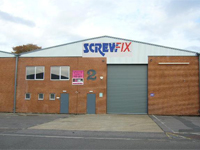 DB Real Estate are able to confirm that Screwfix Direct Ltd, part of Kingfisher, has taken Unit 2 Lawrence Way, Camberley and completed a new 10 year lease on the property which provides approx. 6,600 sq ft.
This is very exciting news for Camberley and the Yorktown Business Park, where Lawrence Way is located, and Screwfix's presence on the business park will attract further occupiers, creating more jobs for the local area.
Nigel Dickason at DB Real Estate, who acted for the landlords, has confirmed that the adjoining unit, number 1, is also available and likely to generate considerable interest. In addition a larger unit of 26,500 sq ft is available on the same estate.
The industrial estate is managed by CBRE Investors Ltd and DB Real Estate and Colliers International are currently offering the available vacant units which range in size from 8,200 sq ft up to 26,500 sq ft For further information please contact the Camberley office of DB Real Estate on (01276) 538300.