DEALS DONE – Boeing touch down in Fleet! The mst significant letting in Fleet this year.
22 July 2011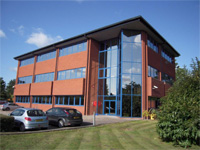 DB Real Estate are delighted to announce that Boeing Defence UK Ltd have taken Integration House, Rye Close, Ancells Business Park, Fleet a 12,000 sq ft detached, refurbished, headquarters office. The building has been sub-let by Gleeson Group plc until June 2017.
Boeing is the world's leading aerospace company and the largest manufacturer of commercial jetliners and military aircraft and employs over 1,000 people across the UK supporting Ministry of Defence and U.S. military programmes.
Integration House was refurbished by Gleeson Group plc and provides high quality, full fitted, office space. The rent was agreed at £16.50 per sq ft and a rent free period was agreed.
DB Real Estate acted for Gleeson Group plc whilst CB Richard Ellis acted for Boeing Defence UK Ltd.
For further information please contact the Camberley office of DB Real Estate on (01276) 538300 or CB Richard Ellis on 0207 182 2000.