Former Sun Microsystems HQ sold
17 January 2011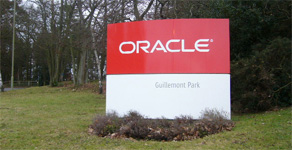 Property company Landid has bought the former Sun Microsystems HQ at Guillemont Park, Minley Road, Fleet (adjacent to Junction 4a of the M3 Motorway) from the owner occupier.
Sun Microsystems was once one of the Blackwater Valleys biggest employers/occupiers however, following Oracle Corporation's acquisition of the company, all business activities and staff are being moved to Oracle's own UK headquarters at Thames Valley Park, Reading and this will lead to the company vacating all of the existing space which totals approx. 280,000 sq ft!!
The purchase was completed over the Christmas period and Landid are planning a complete refurbishment of the offices with works expected to start in the second quarter of this year. Three buildings are fully built at the site, another two are at shell stage and could be completed and then brought to the market later. The existing offices total 280,000 sq ft and the two partially developed buildings total 120,000 sq ft.
Landid have initially suggested the offices are to be marketed at rents of between £17/sq ft and £19/sq ft.
A Landid spokesman said: "The park has huge positive characteristics, which we're looking forward to presenting to occupiers. The purchase was opportunity driven: we like the location, we like the timescale and we like the fact it can be delivered to the market sooner rather than later."
The 36 acre Guillemont Park site was bought by Sun Microsystems for £35m from MEPC in 1997. Sun intended to build all five buildings, but after two phases were completed the third phase was halted mid-construction following the dot.com crash in 2000. Landid's purchase could mean the site will finally be developed into its full capacity.
The departure of Sun Microsystems can only be seen as a blow to the Blackwater Valley area. However, the supply of high quality office space in a great location could bring new occupiers to the area and new occupiers is what the Blackwater Valley needs, desperately. There is already a massive oversupply of office space but much of this is now older stock and there is now doubt good quality space is what is needed to attract new occupiers.