Nokia is all set to leave
17 May 2012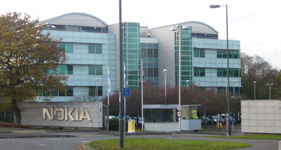 DB Real Estate can confirm that Nokia are planning to vacate the whole of their headquarters facility in Farnborough, on the Southwood Business Park, which provides 305,000 sq ft approx. of office and R & D space and relocate to London in a fraction of the space they currently occupy.
There is no doubt this is disastrous news for the Blackwater Valley area, especially as it follows so closely behind the loss of Sun Microsystems after their take over by Oracle and operations were moved to Reading. The area can ill afford to keep losing its best and most high profile corporate occupiers.
There had been rumours about Nokia and their plans, especially as everyone will have read in the press about their attempts to re-focus the business and their tie up with Microsoft, but no one was expecting a complete move away.
The company is making 4,000 job cuts globally and as part of the restructuring it will close the head office in Farnborough and relocate to 60,000 sq ft of office space near Paddington in central London. The planned new office is at Kingdom Street, which is already home to Vodafone, Orange, Marks & Spencer and Kingfisher. Nokia had originally looked at alternative offices closer to home in Woking, Weybridge and Stockley Park, but decided central London would improve the calibre of people it could attract to the firm.
Work has already started on the disposal of the Farnborough head office and international surveyors CBRE have been appointed to offer the whole site of 9.4 acres for sale freehold.
For further information about commercial premises in the area or Nokia's existing head office facility please contact the Camberley office of DB Real Estate on 01276 538300.