Huge expansion for Novartis in Camberley
27 September 2011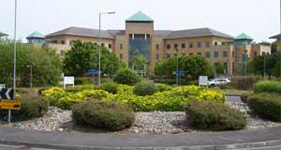 F&C REIT Asset Management has confirmed that it has let a 64,000 sq ft headquarters facility at Watchmoor Park, Camberley to the pharmaceuticals group Novartis in the largest office letting in the M3 corridor for three years.
This is great news for the Blackwater Valley area especially as it comes against the backdrop of fears that Novartis and other pharmaceutical companies might be looking at withdrawing from the UK in a row over pricing for the NHS.
The rent Novartis has agreed has not been released but rumours suggest it could be in the low £20's per sq ft per annum. The building is Block C of the Watchmoor Park Business Park which is on the outskirts of Camberley, on the Blackwater Valley Relief Road (A331) close to Junction 4 of the M3 motorway. Novartis already has approx. 100,000 sq ft on Frimley Business Park, Camberley, which is close by.
The news comes as a blow to property companies Watchmoor Park Estate and SEGRO who both have similarly sized properties available on Watchmoor Park.
Bad news perhaps for these property companies but great news for F and C REIT and the area, which desperately needs to both retain world class occupiers and attract new occupiers to take up the over supply of office space in the area.
For further information please contact the Camberley office of DB Real Estate on 01276 538300.