Sun Park is launched
24 November 2011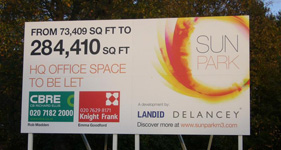 DB Real Estate can confirm that the former HQ of Sun Microsystems, at Junction 4a of the M3 Motorway, has been launched by property companies, Landid and Delancey as Sun Park, providing up to 284,500 sq ft approx. of Grade A office space.
Sun Microsystems moved out of the whole facility earlier in the year, when Sun were taken over by Oracle and shortly after this the whole site was bought by Landid and Delancey who are now offering the office space to potential new occupiers. The existing space is provided in three buildings and represents the largest single available space in the Thames Valley at the present time. The owners are happy to speak to any potential occupiers looking for plus of 20,000 sq ft approx.
The site also incorporates existing on-site facilities which include a restaurant, a gymnasium, several coffee bars and plenty of attractive outdoor areas.
Sun Microsystems originally intended to build up to 400,000 sq ft but they never completed the final phase and so there is scope to build a further 112,000 sq ft on site.
There have been various rumours over the last few months about the whole site, at one point it was suggested it might make a suitable site for a huge warehousing scheme and another suggestion is that some form of residential development might be proposed for the uncompleted final phase. Whatever does happen, one thing which is certain is that this site will play a significant part in the property market for quite a number of years!!
For further information about Sun Park please contact the Camberley office of DB Real Estate on 01276 538300.